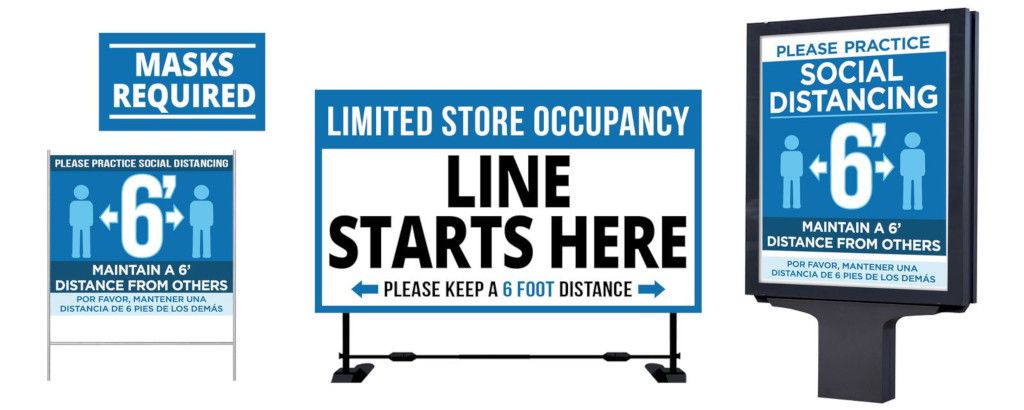 As businesses begin to reopen, it is important to appropriately equip your restaurant, store, salon, etc. with the necessary signage to ensure customers abide by current safety precautions and procedures. Using custom COVID signage and adhesives will preserve your professional look that is very important in the business world. Here are some times of signage to equip your business with today:
(click here for another article on How to Adapt Your Business Post-COVID)
Floor adhesives are the easiest way to guide customers or clients to appropriately distance themselves socially from others. These adhesives are easily applied to any floor surface and can display your logo, message, and other proportional content. 
Posters are an easy way to catch the eye of your customers and convey important messages such as washing hands, wearing proper face coverings, or staying socially distant. 
Signs are another valuable way to enforce new precautions and procedures. They can also be used to invite customers back with calls to action such as "come in, we are open". There are a variety of different sign types including coroplast yard signs, foam-core signs, PVC signs, and coroplast rider signs. With signs, you can display information outside and inside. 
Stop customers in their tracks! Ideal for billboards, building wraps, banners, trade show signage and more, Full Color Outdoor Banners are durable and ultra-versatile. 
With the spread of COVID-19 at the forefront of many conversations, it is important to consider the health and safety of the public. Disposable menus are one of the better ways to prevent the spread of the virus by easily replacing the menu for each new customer. 
To create your own hang tags today, use our online DIY Design Tool at Minuteman Press National Print Service
Or for more assistance or design help, call or email us